Achensee via Ferrata Camp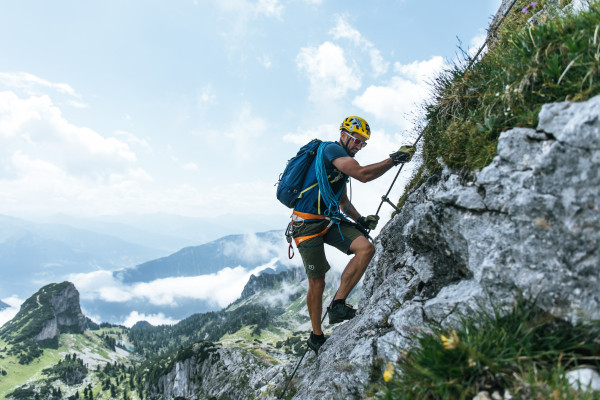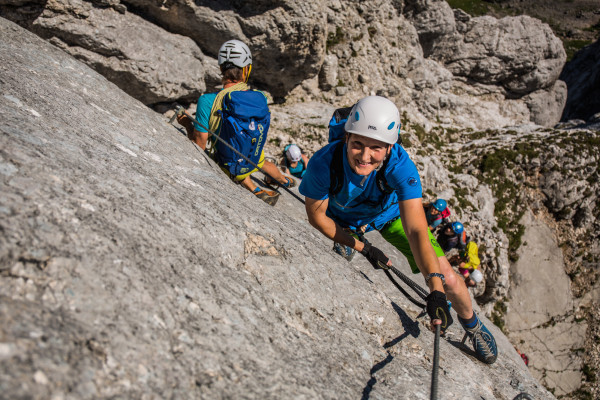 Climbers who are looking for the ultimate climbing experience can put themselves to the test during the Achensee via ferrata camp. Experienced guides will teach the participants how to negotiate their way across the rocks. Interested climbers can join the 4-day camp.
4-day camp
small groups with state-certified mountain and ski guides
5 peaks with experienced guides
Included

3 nights stay including halfboard in the ****Naturhotel Alpenblick in Maurach 
Test equipment (climbing equipment, helmet, harness)
Two round trips with the Rofan cable car
Small groups with state-certified mountain and ski guides
Goodie bag
Photos of the participants

Not included

Catering (snacks, drinks) during the tours or stop at the hut, drinks in the hotel

Duration
4 Days
Bring along

appropriate equipment (ankle-high boots, climbing harness, via ferrata set, helmet, etc.)
Rucksack (sufficiently large) & water bottle
Climbing clothes, insulation jacket, rain jacket
Sunglasses (sun protection)
First aid package (small)

Participants
Limited number of participants per camp.
Opening hours
Requirements

Appropriate fitness level, head for heights. Suitable for beginners and advanced climbers. Courses will be held in German, advanced language skills required.

Important information

The programme is subject to change based on weather conditions.Every participant must agree to the following conditions – Liability exclusion and the Austrian General Terms and Conditions for the Hotel Industry.

The event will be carried out in compliance with the current COVID-19 measures. More information on our website achensee.com

Additional information
Liability Exclusion.pdfGeneral terms and conditions for the hotel industry.pdf
Venue
Naturhotel Alpenblick
Rotspitzweg 5, 6212 Maurach, Österreich
in front of the hotel
Maurach Rofanseilbahn
Offered by
Achensee Tourismus
6212 -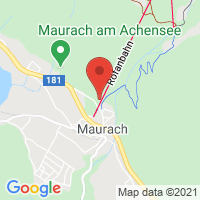 Further information
PROGRAMME
1st day
until 13.00 – Arrival and check in at ****Naturhotel Alpenblick in Maurach
13.30 – Round of introductions participants and division into groups 
14.00 – Departure to the crag Achenseehof
18.30 – Group dinner at Naturhotel Alpenblick
2nd & 3rd day
At 8.30 – Ascent with the Rofan cable car in Maurach, followed by a hike to the Achensee 5-peak via ferrata
Guided via ferrata tour with technical exercises, tips and tricks and information about the proper conduct in the mountains
Summit victory followed by a stop for refreshments at a mountain hut
Approx. 17.00 – Wellness at Naturhotel Alpenblick
18.30 – Group dinner at Naturhotel Alpenblick
4th day
From 8.30 – Guided tour according to skill level (route will be selected on site)
Approx. 14.00 – Return to the hotel and individual departure
All important information regarding the schedule and packing list will be sent by e-mail before the camp. The programme is subject to change based on weather conditions.
3 Reviews
Faszination Klettersteig - 4 erlebnisreiche Tage mit den Nothdurfter Brüdern
Vom ersten bis zum letzten Tag top organisiert. Wunderschöne Klettersteige, tolle Locations.
by Margit Chlebnicek on 07/05/2020
Das Klettersteigcamp war eine sehr gelungene Veranstaltung, wir erhielten super tolle Infos von unseren bestens ausgebildeten Bergführen. Das Camp kann man jederzeit weiterempfehlen.
tolle Unterkunft mit ausgezeichneter Küche
sehr gute Betreuung und Organisation
jedem Neueinsteiger

by Gerhard Pauli on 06/19/2019
DANKE lieber Gerhard für dein Feedback. Wir freuen uns, wenn wir dich wieder am Achensee begrüßen dürfen ... bis bald.
Klettersteigcamp mit Erholungsfaktor :-)
Gesamtbewertung 5*****, einzig die Frühstückszeiten könnten den Tourenbedingungen angepasst werden.
Große Unterstützung bei der Buchung !
Empfehlung: alle, die eine neue Sportart kennen lernen wollen, oder in einer Fortgeschrittenengruppe (4-5 TN) mit eigenem Bergführer in unbekannter Bergwelt Spass haben wollen und das Angebot einer Unterbringung im 4* Hotel zu schätzen wissen.
by Edith Römer on 06/18/2019
Liebe Edith, danke für dein Feedback - vielleicht bis bald wieder am Achensee.