Geocaching - treasure hunt
Welcome to Wusel's treasure hunt in Pertisau! The rucksack which you will receive at the Information office in Pertisau will contain all the necessary equipment for the treasurehunt.
Wusel's treasure hunt
rucksack with necessary equipment for the treasurehunt
eight family-friendly stations
find out the correct target coordinates
Duration
3 Hours
Bring along

sturdy shoes and appropriate clothing

Opening hours
01/07/2021 – 10/31/2021
Mo, Di, Mi, Do, Fr 09:00 - 12:00

Requirements

For the whole family
Venue
Pertisau Information Office
Karwendelstraße 10, 6213 Pertisau, Österreich
2-3 parking possibilities
busstop "Pertisau Information Office"
Offered by
Achensee Tourismus
6213 - Pertisau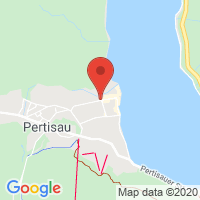 Further information
Wusel's treasure hunt is a simple multi-cache hunt in thesurrounding area. The eight family-friendly stations are scatteredaround the village of Pertisau. The duration depends on you - fromtwo hours to a day's outing - because some of the stations invite youto linger. You will need to find out the correct target coordinates tofind the treasure. At each waypoint you will find a clue that will bringyou a step closer to your goal.
3 Reviews
Geocashing
Es war ein super Erlebnis! Das Einzige was ich verbessern würde ist, das Gerät könnte näher erklärt werden bevor man los casht ????
by Dennis Rick on 07/28/2020
Handgerät funktionierte nicht!
Buchung hat im Info Büro Achenkirch bestens funktioniert! Sehr nettes Personal. Handsender im Pertisau abgeholt. Funktionierte aber nicht bzw. wir kamen mit dem Gerät nicht klar. Wieder rein ins Info Büro. Die Dame konnte uns aber auch nicht wirklich weiterhelfen, bzw. kannte sich auch nicht mit dem Gerät aus. Egal, trotzdem los gegangen und die Aufgaben versucht so zu lösen. Hat dadurch natürlich länger gedauert, so das wir erst kurz vor Ladenschluss des Info Büro's wieder zurück waren. Da unser Lösungswort nicht ganz richtig war, hätten wir von der Infodame gerne die richtige Antwort gewusst. Leider hatte die Dame auch dazu nicht richtig Lust u. die Info, das der Handsender nicht funktioniert hat, war dann auch für sie nicht mehr so wichtig. Egal, wir hatten trotzdem einen schönen Tag! Die anderen Aktivitäten, die wir in Achenkirch gebucht hatten, haben aber alle reibungslos geklappt. Dafür noch mal besonderen Dank an Alina und Verena!
L.G.
by Hubertus Rotter on 07/28/2019
Schöne Abwechslung
Eine schöne Alternative zum normalen Spaziergang. Gerade für Kinder ist der 'Schatz' ein Anreiz.
by Rita on 07/21/2019