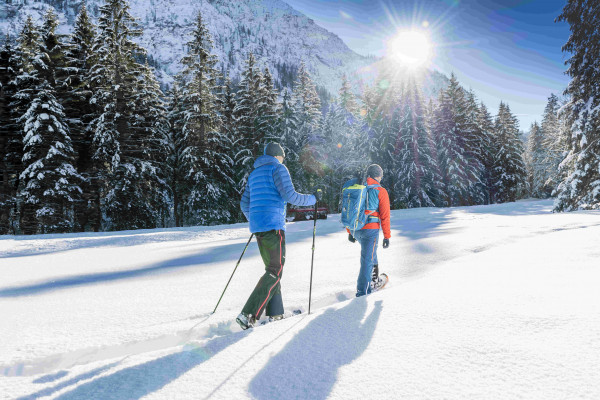 ACHENSEE WINTER HIKING PROGRAMME
Depending on the snow conditions, the educational and informative tours into the Nature Park Karwendel and its surroundings will be on foot or on snowshoes.
guided tour by trained rangers of the Nature Park Karwendel
being active in the outdoors
learn interesting facts
Included

snowshoeing equipment (snowshoes and poles)

Not included

Please bring your own snacks and beverages. (stop for refreshments possible at the Falzthurnalm)

Duration
4 Hours
Bring along

sturdy warm boots

weather appropriate clothing

Opening hours
Requirements

Difficulty: moderately difficult

All tours require sure-footedness

Important information

For each of the winter hiking tours, sturdy warm boots and weather appropriate clothing are essential. Please bring your own snacks and beverages.

All tours require sure-footedness. We assume no liability for any accidents or damages. Tours will be in German. The programme is subject to change at short notice!

Additional information
Haftungsausschluss_Winter_WaPro_EN.pdf
Venue
Langlaufstüberl
Langlaufstüberl - Romantikrestaurant & Tanzlokal, Naturparkstrasse, Pertisau, Österreich
pay parking lot
Pertisau Karwendeltäler
Offered by
Achensee Tourismus
- Pertisau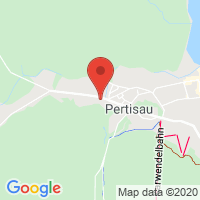 Further information
In addition to being active in the outdoors, visitors get the opportunity to learn interesting facts about the Karwendel and its flora and fauna, the proper behaviour in the naturereserve, animal tracking and snow conditions. The tours are guided by trained rangers of the Nature Park Karwendel.
The tour takes us from the Langlaufstüberl into the Falzthurn valley in the direction of the Gramai. We follow the trail as it climbs gently through a beautiful forest to the Falzthurnalm mountain hut. From here, the path leads over open terrain to the riverbed. Enjoying the breathtaking view, weare taken back into times long past. How did the mountains form? Why are there valleys and cirques? These and many other questions will be answered during this impressive hike.
4 Reviews
Sehr interessante Einblicke in die Tier- und Pflanzenwelt im Winter, fachkundig vermittelt.
Das Angebot nehmen wir beim nächsten Besuch gerne erneut wahr.
by Christian Hepp on 01/13/2020
Sehr interessante, kurzweilige Wanderung im Winter
Wir haben durch unsere Rangerin Marina viel Interessantes über die Landschaft, die Tier- und Pflanzenwelt erfahren. Sie hatte teilweise Anschauungsmaterial dabei, oder zeigte uns an Ort und Stelle Beispiele für Tierspuren, Verbisse u.u.u. Unsere Wanderung (2 Paare und Marina) fand in lockerer Atmosphäre statt. Leider war das Wetter recht schlecht, wofür niemand etwas kann, so dass Schneeschuhe gar nicht gebraucht wurden. Wir hatten dennoch Spaß und würden die Wanderung in jedem Fall weiterempfehlen. Auch das Preis-Leistungsverhältnis ist absolut angemessen! Es war rundherum gelungen!

Herzliche Grüße

by Ralf Bierstedt on 01/08/2020
hat super viel Spass gemacht in einer echten Winterlandschaft 4 -5 Stunden mit Schneeschuhen durch verschneite Wälder zu marschieren und hier und da Spurensuche zu betreiben
alles super
by Helmut Schumacher on 01/06/2020