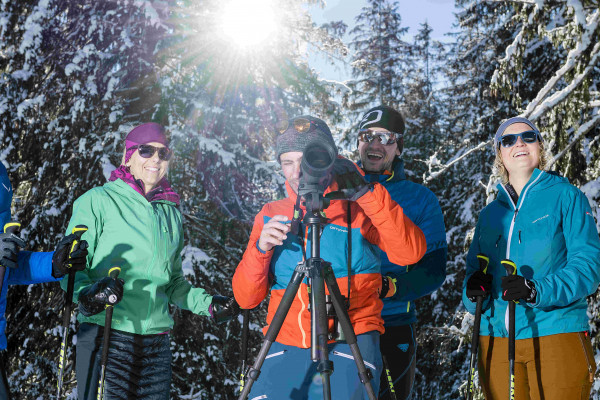 ACHENSEE WINTER HIKING PROGRAMME
Depending on the snow conditions, the educational and informative tours into the Nature Park Karwendel and its surroundings will be on foot or on snowshoes.
guided tour by trained rangers of the Nature Park Karwendel
being active in the outdoors
learn interesting facts
Included

snowshoeing equipment (snowshoes and poles)

Not included

Please bring your own snacks and beverages.

Duration
5 Hours
Bring along

Sturdy warm boots

Weather appropriate clothing

Opening hours
Requirements

Difficulty: moderately difficult

All tours require sure-footedness

Important information

For each of the winter hiking tours, sturdy warm boots and weather appropriate clothing are essential. Please bring your own snacks and beverages.

All tours require sure-footedness. We assume no liability for any accidents or damages. Tours will be in German. The programme is subject to change at short notice!

The event will be carried out in compliance with the current COVID-19 measures. More information on our website achensee.com

Additional information
Haftungsausschluss_Winter_WaPro_EN.pdf
Venue
parking lot Falkenmoos
Achensee Str. 556, 6215, Österreich
pay parking lot
Abzw. Steinberg, followed by a 15-minute walk
Offered by
Achensee Tourismus
6215 - Achenkirch
Further information
In addition to being active in the outdoors, visitors get the opportunity to learn interesting facts about the Karwendel and its flora and fauna, the proper behaviour in the naturereserve, animal tracking and snow conditions. The tours are guided by trained rangers of the Nature Park Karwendel.
This moderately difficult tour starts at the parking lot Falkenmoos. We follow the trail as it climbs to a beautiful viewpoint with vistas of Hinterunutz and Vorderunutz. The trail continues in the direction of the Falkenmoosalm where the rangers explain how wildlife adapts to survive the winter. The return route leads past a deer feeding station back to the starting point.
4 Reviews
| | |
| --- | --- |
| Overall rating | |
| Value | |
| Fun factor | |
Super Schneeschuhwanderung mit wissenswerten Infos über die Natur
Ein perfekte Tour mit schönen Aussichten auf die verschneite Landschaften, nebenbei in den Pausen lernt man auch noch viel Wissenswertes über die Natur und die Tiere hier in den Bergen. Natürlich geht es bei der Tour auch den Berg hoch, aber wenn man einigermaßen fit ist, ist es kein Problem mit den Schneeschuhen ;-)
by Martin on 03/05/2020
Super schöne Tour mit nettem Giude
Wie in der Ankündigung beschrieben, war es eine anstrengende Tour. Dies sollte man bei einer Buchung wirklich beachten.
Es wurden hervorragende Schneeschuhe zur Verfügung gestellt. Der Guide ging auf die Teilnehmer ein.
Trotz zu Beginn widrigen Wetters (starker Regen) und nur 3 Teilnehmern - oder gerade deswegen - war es ein ganz tolles Erlebnis. Wir haben eine ganze Menge gelernt und nachdem das Wetter immer besser wurde, wurden wir mit einer super Aussicht belohnt.
Buchung und Bestätigung problemlos per Internet.
by Sabine Ehrlich on 02/19/2020
Interessante Tour
Einfache Buchung und gute Beschreibung des Treffpunktes per
E-Mail. Gute Ausrüstung und interessante Ausführungen zum Naturpark und seinen Wildtieren.
Sehr zu empfehlen.
Etwas Kondition ist erforderlich !
by Uwe Berger on 01/30/2020